October 10 is World Mental Health Day, and it comes at a time when our lives have been impacted in one way or another as a result of the COVID-19 pandemic. The past months have brought many challenges for everyone, including health-care workers, providing care in difficult circumstances, going to work fearful of bringing COVID-19 home with them; students, adapting to taking classes from home, with little contact with teachers and friends, and anxious about their futures; and people with mental health conditions, many experiencing even greater social isolation than before. And this is to say nothing of managing the grief of losing a loved one, sometimes without being able to say goodbye. 51 per cent of 3,500 respondents surveyed said that the global health crisis has impacted their mental health.
It is expected that the need for mental health and psychosocial support will substantially increase in the coming months and years. The theme of this year's mental health day set by the World Federation for Mental Health is "mental health for all". Thankfully, times are changing and this is slowly but surely becoming possible. With many celebrities, and even royalty, sharing stories about their own mental health health challenges, people are becoming more open about discussing depression, anxiety and mental illness.
As society is becoming more enlightened about the subject of mental illness, technology is becoming an important part of providing solutions to preserve and improve mental health.
While it's crucial to see a medical professional as needed for persistent mental health symptoms, these tech tools can help with everything from preliminary assessment to coping strategies to crisis intervention.
1. Virtual Reality
VR is a relatively new field, but progress is fast, and it is becoming increasingly clear that virtual reality technology has an important role to play in the field of mental health. VR headsets can help desensitize patients suffering from post-traumatic stress disorder, by recreating their personal triggers through exposure therapy. This helps them to develop coping techniques in the safe environment of their own home or a therapist's office. VR can also help with stress management, such as through virtual reality relaxation and meditation experiences for Oculus Rift and Google Cardboard.
2. Apps for Anxiety and Depression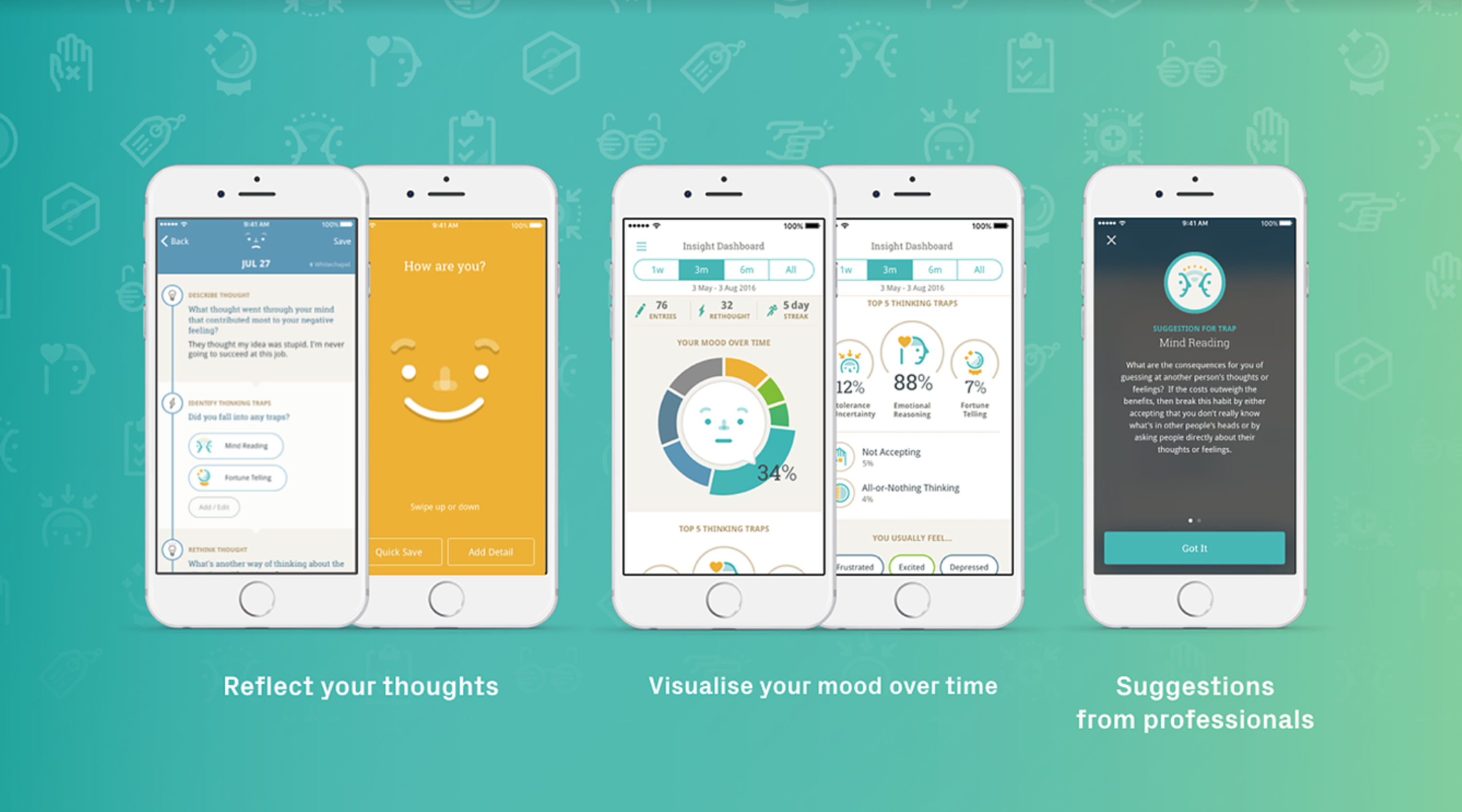 People suffering from anxiety, depression or post-traumatic stress disorder (PTSD), as well as those not yet ready to explore medical help or in need of tools to help support a broader therapy regimen.
Moodpath (Android), for instance, uses daily mood-tracking questions about your thoughts and feelings, three times a day over a two-week period, to screen you for symptoms of anxiety and depression. It then creates an electronic document that you can share with your doctor and offers you access to a library of 150 CBT-based videos and exercises.
Moodnotes (iOS) is a top-ranking mood app. Similar to Moodpath for Android, Moodnotes can help you spot a pattern to your moods and boost self-awareness through a mood journaling feature. It helps you avoid common thinking traps, and develop perspectives associated with increased happiness and well-being.
3. Apps for Relaxation, Sleep and Positive Thinking
The value of a good night's sleep can't be overstated. While Americans and Canadians in general are notoriously sleep deprived, a Harvard study recently revealed that sleep problems are particularly common in people with anxiety and depression.
Calm is a wildly popular app that helps with relaxation, focus and sleep with a broad range of guided meditations, sleep-inducing music and even bedtime stories read by celebs like Matthew McConaughey.
Once you're well rested, Happify promises to "conquer your negative thoughts," change your outlook and help you be happier. After asking questions to assess your happiness levels, the app runs you through daily games and challenges designed to improve your mood, build self-confidence and help you deal with stress.
4. Video Counselling
People living in remote areas where it's hard to access therapists and facilities, individuals with mobility issues, people who travel a lot or have busy schedules, or those who prefer an alternative to face-to-face interactions have some options too.
Inkblot Therapy matches Canadians and Americans with qualified counsellors who provide talk therapy and psychotherapy via video chat. Your initial half hour session on Inkblot is free and then subsequent sessions cost $37.50 CAD per half hour.
5. Crisis Text Support
People in any type of crisis, whether they are suicidal or grappling with difficult thoughts or feelings, can send a text message to connect with a trained volunteer or counsellor, who will listen, empathize and help the individual reach a calmer state or access emergency support.
Crisis Text Line (powered by Kids Help Phone) in Canada is free and operates around the clock to support youth. Text "HOME" to 686868. CrisisTextLine.org is available for US/CAN via texting "HOME" to 741741
Ontario Online & Text Crisis Services provides help to any Ontarian in distress, struggling or having suicidal thoughts. The texting service is available from 2 p.m. to 2 a.m. daily via 258258 or via online chat on their webpage.
Conclusion
These tools are all generally more accessible to everyone, fitting this year's theme of "mental health for all". They are also more convenient and anonymous. However, these tools are not the perfect solution either. There are concerns that such tools lack scientific evidence that they work and that they work as well as traditional methods. There are also very few regulations governing these tools, especially the apps.
Take care of yourself and your family today, put down your phones and talk to one another, share how COVID-19 has impacted you and how you can help each other.